"Yes, art is our life but, you can find art everywhere- it is in music, handmade shoes, furniture, design, clothing, sculpture, books- there are no bounds. Go outside, and open your eyes."
My name is Andrew Medal, and I am a designer. Not so long ago I taught myself web design, and graphic design. I've built a business around my skills and have attracted big clients like the CA Education Department, Trader Joe's and Inc. Magazine. Even before I was a web designer, I was a designer. I love art. I have an infatuation for writing. I enjoy cooking (sometimes). These have all been creative outlets that helped nourish my design chops. Design is everywhere, if we just open our eyes.
Look at the cover art in app on your Spotify song lists.
The way your barista designs your morning coffee.
Your Panerai watch design, color scheme and layout.
The way your boyfriend presented morning breakfast.
The layout of the coworking conference room you host meetings.
The design of your morning favorite blog.
The morning sunrise as it rises against the beach background.
My high top Chuck Taylor's with hiking boot laces, black leather and gray suede.
Design is all around us, consuming our lives, vying for our attention in every shape, size and form.
As my introduction piece to our AIGA community, I decided to start with a piece that urges us to expand our minds and thoughts passed traditional notions of who and what design is. Plus, introduce myself as a writer, designer and member of our community.
It's easy to stay in our comfort zone, talking about Photoshop, graphic design and the latest design trends. However, I believe that design is so much more, and I think we're a community that is much more creative, thoughtful and innovative, who seeks and thirsts for new thoughts in forward thinking design. I plan to write about the greater state of design.
My Writing Style
When I write for Entrepreneur, I use a style that helps me stand out in the crowd, and I plan to do the same while writing for AIGA.
Here are some examples:
Design should be open and collaborative. To me, everyone is a designer. At my company Agent Beta, we work with our clients as peers and encourage participation from everyone on the team. No matter your role, your opinion matters and shapes the design. Your children our designers, your mom, your spouse.
As creatives and professionals alike, we must never put limits on the bound of creative power and energy. Design is meant to be lived, inhaled and enjoyed, in every shape, size and form it presents itself. I look forward to writing for the AIGA community, and most of all I look forward to helping expand our vision of design.
About the Author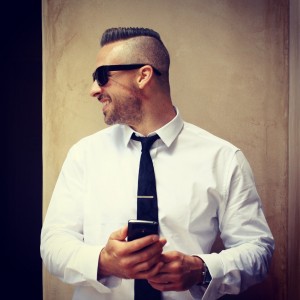 Andrew Medal is a street geek and entrepreneur who's into digital journalism, design and geekery. He is the founder of web and mobile development shop, Agent Beta, amongst a handful of other startups. Recently, he's been helping the California Education Department solve the student and job problem through technology.
He volunteers inside prison institutions with the Last Mile Project, where he teaches inmates how to become entrepreneurs and computer program with the new Code 73.70 initiative (he also designed its site). Join his Facebook Group of more than 12,000 other entrepreneurs (including Noah Kagan), where they talk, strategize and share tips about being entrepreneurs, by requesting an invite here.