Summer is a time when everybody is active, changing their routines and looking for new things to do. Helping the local community is an exciting way to do that and participating in the AIGA OC Design for Good initiative is a great start. I sat down with Paul Bresenden, President of 454 Creative  and current Design for Good Chair, to learn more about what drives him, what's in store for the AIGA OC's Design for Good program and long term goals.
Can you tell us a little about yourself and what you are currently doing?
I lead the amazing team at 454 Creative  in Irvine. We are a digital marketing agency that is obsessed with driving growth for organizations. We do great stuff like website development, PPC advertising and lead generation strategy.
How did you originally get involved with AIGA OC?
Personally, I became involved with AIGA OC roughly eight or nine years ago, after our agency relocated to Irvine from the Los Angeles area. I have been more directly involved within the last two years after signing up to help lead the Design for Good team.
Why did you join the Design for Good team and volunteer to become Chair?
I want to give back in very meaningful ways. Our agency is already having these conversations; building strategies and creating meaningful outcomes. I realized that some of the best things that I can contribute are the things that I am uniquely gifted in doing.
If we [in the creative community] can provide expertise that helps drastically grow non-profit organizations serving Orange County, the inherent value of our impact grows exponentially.
What are you looking to achieve with the AIGA OC Design for Good program?
Meaningful impact.
The irony is that all strengths have negative implications. Orange County is amazingly beautiful and known for great wealth. But right under the surface is also an incredible amount of poverty, despair and hopelessness. There is this false perception of paradise. We want our community to be a better place for everyone and we can't do that from our gated communities.
Design for Good aims to connect the design community to the needs of Orange County. We aim "to be good neighbors" and want to encourage empathy and sharing appropriately. The connection is professional and personal. Our job as human beings is to build and invest in systems that look out for the people marginalized by society. As designers — we get to create those systems. That is powerful.
You hosted last year's Design for Good event working with KidWorks, what were some of the team tasks?
The event in December 2015 was a design sprint building marketing campaigns for KidWorks, located in Santa Ana. It's amazing that Santa Ana was named as the toughest place to grow up in America.  Tougher than Compton or Detroit or any other place we associate with violence and poverty.  
The first challenge was getting both designers and the non-profit to think systemically. We had to define an outcome and build a framework for achieving it. This included a lot of training on how to engage a donor base, create clear marketing objectives and build alignment on process. Like many organizations, they knew what they wanted – they didn't know why. If you don't know the "why" it's hard to deliver something that works.
How did the group work together?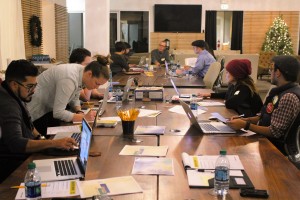 It was a fun electric atmosphere. The format was powerful and it really encouraged teamwork. There was such energy in the room and that energy was leveraged to have the teams work in a fast, new, collaborative format. Doing a sprint is so different — by its very nature it breaks designers out of their rut and forces thoughtful interaction with others.
What's in the immediate future for the AIGA OC's Design for Good?
Currently, we are looking to build a leadership team of approximately 10 people help drive Design for Good. Â 
Additionally, we assembling a team to help with the planning and preparation of the annual OC GUTS. OC GUTS is a pumpkin carving contest on steroids with the goal of raising $100K for the Orange County and Inland Empire chapter of Make-a-Wish Foundation. Â 
We're going to need an army of people to help pull it off and would love for designers to get involved!
If you are interested in joining team or have questions
please email sara@aiga.org.

Want to learn more?
Check out AIGA Charlotte's pumpkin goodness at their 2015 GUTS event.